The Fifth Day or Epoch
The carboniferous qualities of the water and the atmosphere having been absorbed into the cretaceous organisms of the sea, which formed beds of limestone, and into the rank vegetation which went to form the coal beds, the atmosphere of Earth began to be pure enough to permit life in breathing animals. To this period, therefore, belong the amphibious developments of animal life, such as the crocodile and other animals which can live either on land or in the water. Birds belong to this period, and in the latter part of it appeared the great Mammoth and the Sloth.
The conflict between Evolution and the Bible has been sharp. Nevertheless, unnecessary friction has been generated.
Only in respect to man does the Bible declare a special, direct creation of God. The statements of Genesis in respect to the lower creatures rather favor something along the lines of specialized Evolution. God said, "Let the waters bring forth abundantly the moving creature that hath life, and fowl that may fly above the Earth." (Genesis 1:20,21.) This is exactly in harmony with our scientific findings that the beginning of life came from the waters, and later extended to the birds, and later to land animals.
The Darwinian theory has disappointed those who swallowed it without a sufficiency of demonstration as to its truth. (1 Timothy 6:20.) Recent demonstrations show that every mixture of species and kind, even where partly successful, means a reversion to the original standards within the third or fourth generation in plants, flowers, fruits and in animals.
The correct thought would seem to be that under Divine supervision various orders of creation were brought to a state of development and a fixity of species, not to be turned aside nor thereafter altered. Not one suggestion is offered respecting human evolution from a lower creature; but quite the contrary. The Bible furnishes merely a basis for faith, "that the man of God may be thoroughly equipped."--2 Timothy 3:17.


Stegosaurus--
Large as an Elephant



Diplodocus--Eighty-Four Feet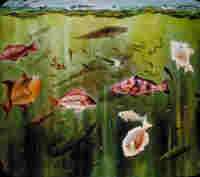 Fish and Fowl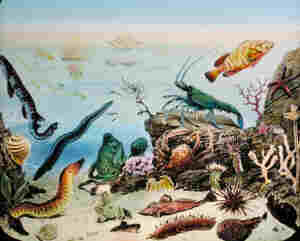 Deep Sea Life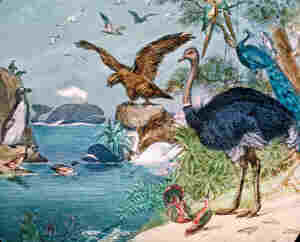 Birds and Fish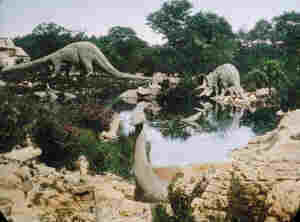 Prehistoric Zoo