Nephilim Destroyed
The account of the fall of the angels from being sons of God to be demons helps us to understand why God decreed the Deluge to wipe out all of the human race except Noah and his family. We perceive that God from the first intended to deal only with Adam and his family. The giant sons of the fallen angels (Nephilim) came into being contrary to the Divine will; hence, properly, no provision was to be made for them. They never had a right to life, nor will they have a resurrection. On the other hand, all of Adam's posterity, redeemed by Jesus' death, must be recovered from death, with full opportunity to secure everlasting life.
After the Deluge, the demon angels dematerialized--resumed their spirit conditions. St. Peter and St. Jude reveal the penalty inflicted upon them. "Those angels which kept not their first estate, but left their own habitation [spirit condition], God restrained under chains [restraints] of darkness, unto the Judgment of the Great Day."--2 Peter 2:4; Jude 6.
The liberties of the fallen angels--demons--were restrained. They are unable to use deceptions in the light--unable to materialize as formerly. Note, however, that the limitation "unto" implies that when the "great Day of Wrath" shall come, these fallen angels will be permitted to materialize and become potent factors in the strife. Other Scriptures indicate that these fallen angels will have much to do with the great "time of trouble" with which this Age will close, and in which Messiah's Kingdom will be inaugurated.
These fallen angels were cast to tartarus--our Earth's atmosphere. Satan, a cherub-angel of higher rank, is styled the Prince of Demons. They are not in some far-off place stoking fires, but keep as close to humanity as possible. Not permitted to materialize, they seek to obsess, to demonize by clairvoyance and clairaudience. Mankind would properly resent them if their true character were known. They therefore personate the dead, communicating through spirit-mediums.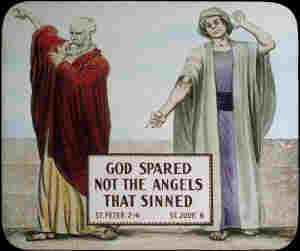 God Spared Not the
Angels that Sinned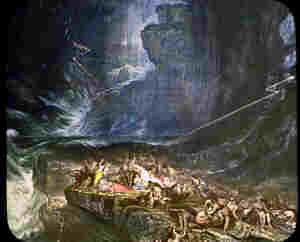 Nephilim Destroyed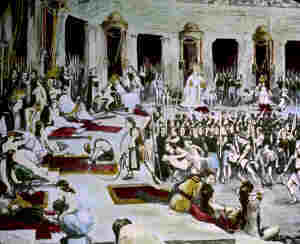 Giants--Sons of the Angels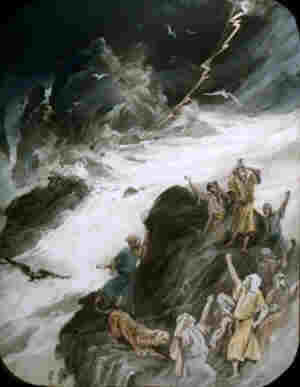 The Last Ring Fell--
The Deluge