The Baptism of Jesus
When Jesus presented Himself to John at Jordan to be baptized, it caused surprise. John declared, I have more need to ask You to baptize me! You have no sin to wash away! Jesus did not explain the matter. He merely said, "Suffer it to be so now." He thus intimated that He was not following John's baptism to wash away sins, but that His baptism had another special meaning, which He did not disclose. St. Paul explains to us that Jesus' baptism symbolized His full consecration of His life to God as a sacrifice, even unto death.--Hebrews 10:5-9.
Jesus afterward indicated that His entire ministry was a fulfilment of the consecration made at thirty, when He was baptized. It symbolized His immersion into death--yielding His life to the service of God. At the close of His ministry, He said, "I have a baptism to be baptized with, and how am I straitened till it be accomplished!" (Luke 12:50.) The next day, on the cross, He cried, "It is finished!" His baptism into death, begun at Jordan, was there completed.
In this matter the followers of Jesus copy Him. They are baptized into His death, and thus into His Body, the Church. (Romans 6:3.) This baptism into The Christ company, or Body, will not be completed until the last member shall have passed into death. Then the baptism of Christ as a whole will be finished. Then beyond the veil, by the First Resurrection, the entire Body will receive glory, honor and immortality and be joint-heirs with Jesus in the Kingdom then established. "If we suffer with Him, we shall also reign."
As Jesus came up out of the water, the heavens [higher things] were opened to Him. Heavenly Truths became clearer. He could understand the "deep things of God." (1 Corinthians 2:10.) This enlightenment came by the receiving of the Holy Spirit. So His followers received a measure of the Spirit, begetting them as sons of God, joint-heirs with Christ. They also are illuminated.--Hebrews 10:32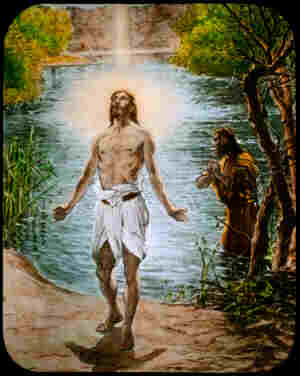 Anointed by the Spirit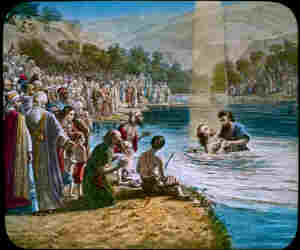 The Baptism of Jesus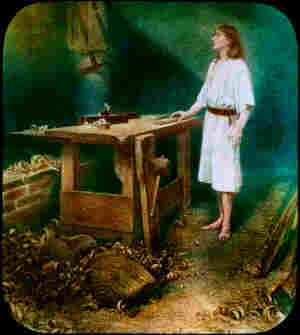 The Carpenter's Son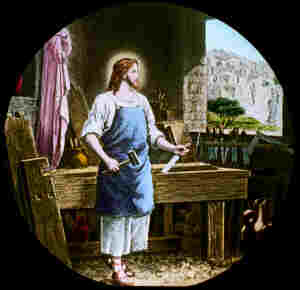 Nearly Thirty--Off for Baptism