Joshua's Long Day
There was some foundation for the Bible narrative of Joshua's long day. Some Bible students claim that the language of the Hebrew text teaches that the day was dark, that the Sun did not shine at all--an extremely unusual thing for Palestine. The enemies of Joshua were Sun worshipers, and the darkness of the day foreboded that their Sun- god was eclipsed. In the narrative, the immense hailstones killing so many seems quite in line with this interpretation--that the day was dark instead of light--that the obscurity of the Sun and the Moon was really a great phenomenon, which Joshua made use of to discomfit the foe, commanding the Sun and the Moon to stay hidden!--Joshua 10:11-14.
The other explanation is equally logical. It assumes that the Sun was visible during the day, and that heavy clouds refracted the Sun's rays unusually late in the evening--until the Moon rose, so that there was no time without light.
Either explanation is satisfactory. It is quite unnecessary that any stumble over this Bible narrative.
The triumph of Gideon's little army over a host, typified the final victory of Christ and His followers over the hosts of Sin. The broken vessels represented self-sacrifice to let the light shine out--the trumpets the Gospel Message--the sword God's Word. Of Gideon and his brethren it is written that each looked like the son of a king. Christ and His followers all are Godlike in character.--Judges 7:16-25;8:18.
Jephthah's daughter was not sacrificed in death as a fulfilment of her father's vow. She merely took the vow of perpetual virginity and figuratively became dead to the world after spending a brief season with her virgin friends. The Bible is simple and reasonable when understood.--Judges 11:30-40.
The overthrow of the Midianites by Gideon's band and Jephthah's dedication of his daughter to the Lord in perpetual virginity, belong to the period of the Judges, of whom Joshua was first.--Acts 13:19,20.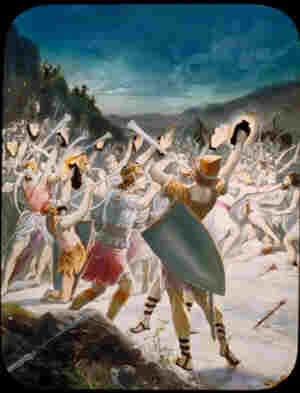 Gideon's Band--Light Bearers