New Heavens and New Earth
Many of the precious teachings of the Bible are conveyed in symbolic language. Indeed all language is pictorial. Thus the "Heavens" are the higher, or ecclesiastical and spiritual powers connected with the present order of things, while the "Earth" is the lower, or social order of things. In Bible usage, the mountains of "earth" represent the great governmental strongholds, while the sea represents the restless class which secretly or openly desires to engulf society.
Thus the Bible tells that the "Heavens" and the "Earth," or spiritual and social conditions which were before the Deluge, perished there, and a new order of things, social and ecclesiastical, sprang up, which still persists. The present order, ecclesiastical and social, is called the world, or Dispensation which now is. It is also called "This present Evil World," because evil holds supremacy. The Scriptures promise that there shall be a new "Heavens" and a new "Earth" (ecclesiastical and social), and we are assured that therein will dwell righteousness.--Isaiah 65:17; 2 Peter 3:13.
St. Peter describes the passing away of the present ecclesiastical Heavens and social Earth in a great fire, once misunderstood to refer to a literal burning of the Earth. The Divine assurance is to the contrary, that "the Earth abideth forever," that God "formed it not in vain, but to be inhabited." The "fire" of this passage is evidently the same symbol frequently used in the Bible. It represents the trouble, destruction, which will completely overwhelm the present ecclesiastical and social order in anarchy.--Daniel 12:1; Matthew 24:21.
The new spiritual Heavens of the future will be Christ and the Church in heavenly glory and power. As God's promised Kingdom, it will rule the Earth, blessing and uplifting the nonelect of every nation, people, kindred and tongue. The new Earth will be the new social order which will come into being at that time, under the direction and guidance of the new Heavens--the Messianic Kingdom.--Matthew 6:10.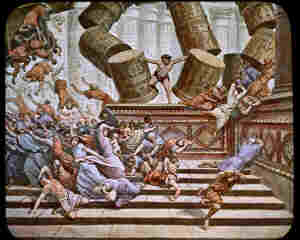 Socialism Prefigured
by Samson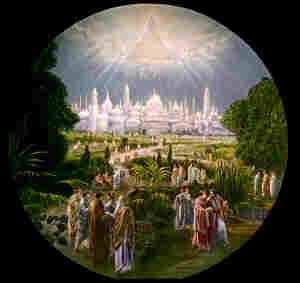 New Heavens
and New Earth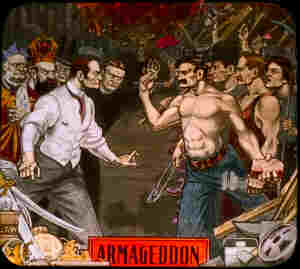 Battle of Armageddon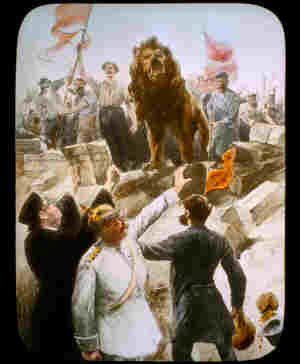 Social "World" Endangered